Much like the various counties to the north, Prince George's County showcased an increase in total sales from 2015 to 2016, with a jump from 9,174 to 10,105 (10.15%.) Short Sales suffered, however, dropping from 1,088 properties sold in 2015 to 840 in 2016, a decrease of 22.79%.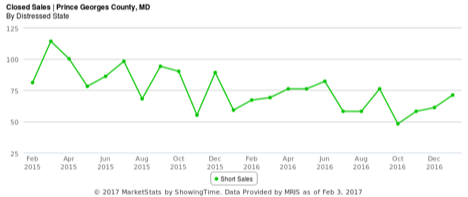 Short sales as a percentage of all sales experienced a small decrease, declining from 11.86% of all properties sold to 10% in 2016. New short sale listings experienced a larger decline, dropping by 27% from 2015 to 2016 (falling from 1657 to 1302 new listings; see graph below.) This trend has slowed since late summer/early fall of 2016, indicating that there may be a plateau in terms of short sale properties listed and closed.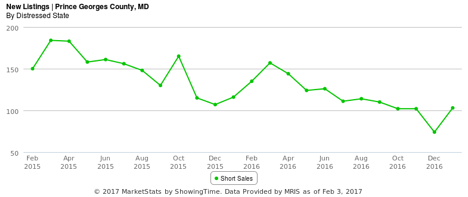 However, for the past 5 years (2012-present) pending short sold properties have exceeded active listings by a factor of 3:1, indicating that there is a consistent level of demand for these properties in this area. Overall Prince George's County conforms to the global trend found throughout the majority of Maryland, where robust market growth ensures that traditional sales will dominate.
For the scrupulous buyer, there is savings to be had in pursuing a short sold property in Prince George's County. Traditionally sold homes averaged $282,000, while short sold properties averaged $217,000, which amounts to $65,000 in savings (see chart below.) Over time there is a small amount of growth that is apparent in the short sale market there, which started 2016 at $217,000 and ended 2016 at $226,000, with a limited amount of volatility between (+$44,00, -$17,000.)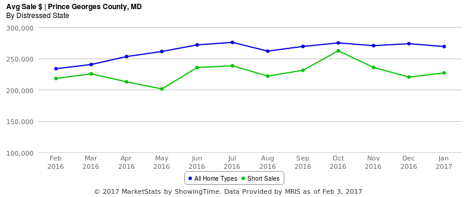 Concerning the type of property that is sold: overwhelmingly the type of property being sold and short sold in Prince George's county in 2016 was a detached family home, with attached homes and town-homes coming in a distant second and third respectively.
Sources: MRIS, SmartCharts, The Washington Post (https://www.washingtonpost.com/realestate/2016/09/29/445b09d8-6bc6-11e6-8225-fbb8a6fc65bc_story.html?utm_term=.c4517689a3ad)